Cottages and rooms at the lakeside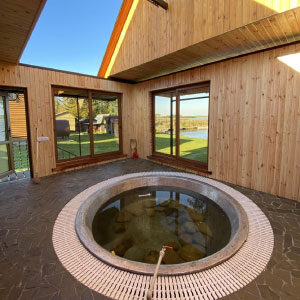 Hot Tub Sessions
If you want to unwind and immerse in the world of pure pleasure you should try out our wood-heated hot tub. The bathing tub is located indoors but you can open up the retractable roof and enjoy the fresh air or marvel at star-budded sky in the evening. To feel the full palette and depth of this invigorating experience you can dive in cold water in the lake nearby. It is sure to be an unforgettable experience.
Book your session today!
Select your date below to see if our facilities are still free!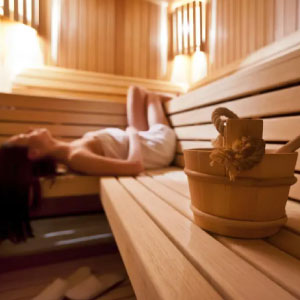 Sauna
The family-run holiday cottage resort in the middle of the picturesque nature offers you the unique sauna experience, perfect choice for those looking for an authentic traditional treatment. The heat in the sauna does wonders for your body including muscle relaxation and improved circulation. It will help to recharge your batteries and rejuvenate in the nice company of friends or family. It is situated right near the lake so you can take a cooling dip in the refreshing water.

Call us for more information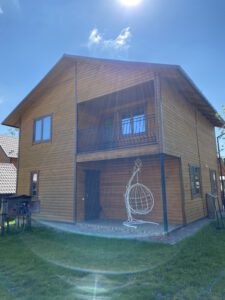 With space for up to 11 guests, our wooden lodge is a truly unique holiday spot for group reunions or stylish celebrations. Get together with friends and family and kick back in your very own house at the lakeside. The lodge has got two floors. There is a kitchen, a shower, a restroom and a bedroom with double bed and an extra sofa for a child or an adult on the first floor. On the second floor you will also find a shower, a restroom and 3 bedrooms with double beds one of which offers a nice balcony where you can sit and enjoy your morning coffee and the other two have extra sofas.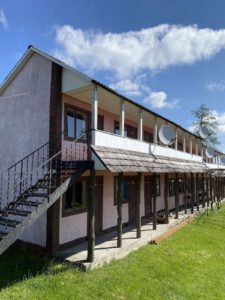 In case you want to have a nice vacation without making a big dent in your pocket we can offer you standard rooms that are budget-friendly and meet all the needs of our guests. There are rooms with capacity for 4 people(a double bed and two single beds),3 people (a double bed and a singular bed) and 2 people(double bed). Your stay will be cozy and comfortable in one of our wooden rooms located right at the lakeside. There is a bed, a fridge, TV and a table with chairs in each room. The shower, kitchen and toilet are communal but always clean and well-maintained. Boats, paddleboats ping pong, Wi Fi and wood for barbeque are free of charge for all our guests. Bring your family and friends and have an unforgettable time close to nature.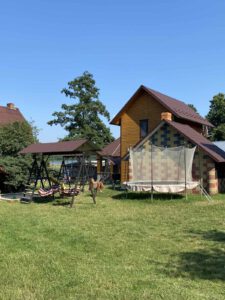 Do you like to head off with a large group of friends or the whole family? If so, you are at the right place. We have cottages and standard rooms to accommodate group holidays, family holidays, birthday party celebrations and corporate events, family gatherings and university or college reunions.
Contact us for special arrangements!
You couldn't get in better hands
Do you have any queries or would you like to leave a comment? We welcome all and will react as soon as possible.
Naberezhna St 118, Svityaz', Volyn Oblast, Oekraïne, 44021
P: +380 97 801 0695
Спокойно, красиво, хорошие хозяйва. У нас крч собака убежала и сожрала 2 курицы, мы ща них заплатили и ушли. Позже прийши ещё люди мол у нас тоже куры пропали, так хозяйва их прогнали)) правда до центрального пляжа далековато ~2км, но есть приватный
Привітна,домашня атмосфера,чистота та зручність
👍
Дуже добре працюють, гарний сервис. Всё дуже добре
Марічка Середюк
2021-08-22
Тут чудово затишно і спокійно! Раджу сюди їхати...